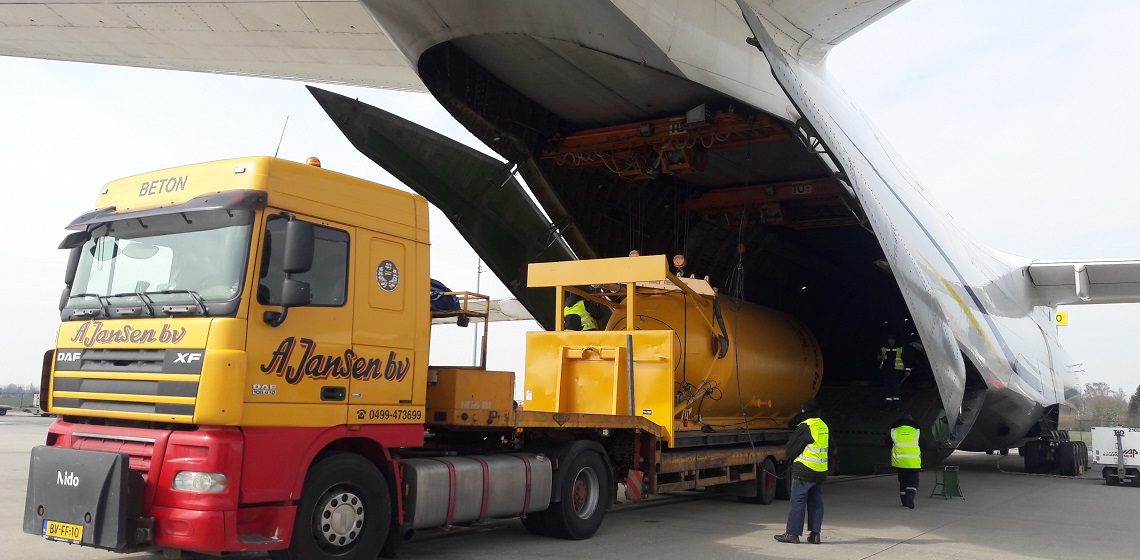 Since May 2018, the Legioblocks® from A. Jansen B.V. from Son have served as a protective wall at a crisis location in the Middle East. The assignment is a comprehensive project for which thorough preparations were made. Due to their heavy weight, air transport of the concrete blocks was not possible, so an alternative solution needed to be found. An impressive transport with an Antonov aircraft  for the mobile Legioblock factory.
Entire production transported
The entire production is being carried out on site, using local raw materials and cement. Among other things, this involved the purchase of some 40 moulds (for the manufacture of the blocks), a mobile concrete plant on a truck chassis, a silo and six 20 ft containers. On 19 March, all of the equipment, weighing approximately 90 tonnes, was transported by an Antonov aircraft from Liège Airport. The first part of the journey, from Son to Liège, began in a single large convoy of six trucks. From Liège, Antonov Airlines took care of the transport to the final destination.
Production and assembly on site
Production of the Legioblocks has been taking place on site, using a local workforce under the supervision of an A. Jansen B.V. project manager. This makes it possible to produce the 400-metre-long wall in a time frame of less than three months. This wall of stackable concrete Legioblocks is constructed from approximately 1000 blocks on a special foundation.
Reinforced walls
Because the base is located in an earthquake zone, the walls need extra reinforcement. Jansen has taken certain measures to achieve this. The Legioblocks are placed on a poured concrete foundation strip. In addition, steel tie rods attached to steel anchor shoes in the poured foundation will ensure an earthquake-resistant wall.
Do you have any questions?
We will be pleased to answer them for you.