Covenant for thermal cleaning of tar asphalt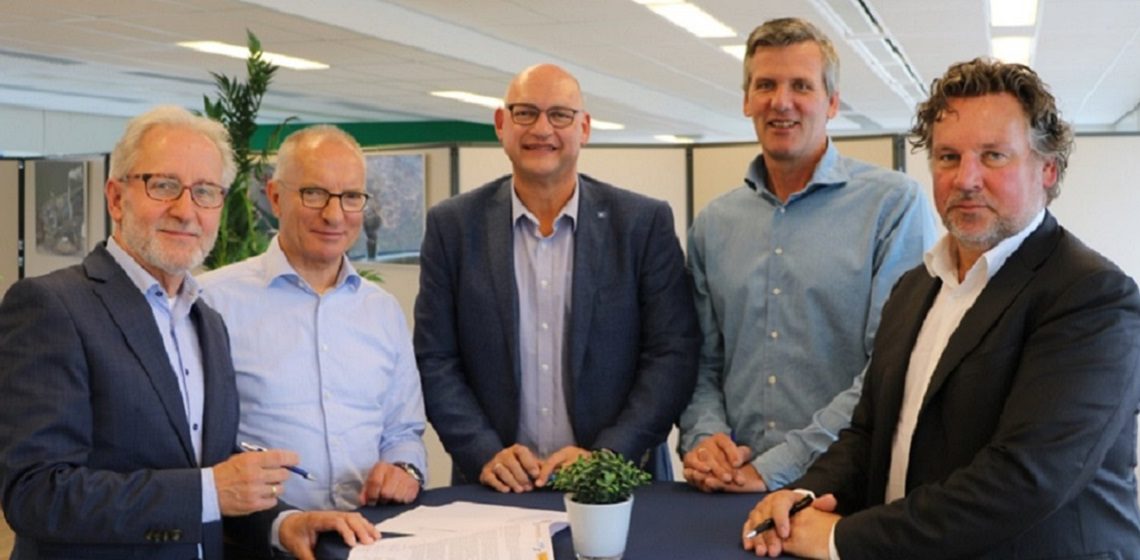 Covenant for thermal cleaning of tar asphalt extended with A. Jansen B.V. from Son
A. Jansen B.V. from Son has recently signed up to the Covenant for the Thermal Cleaning of tar-containing asphalt (TAG). Tar contains harmful polycyclic aromatic hydrocarbons (PAH). There are now four companies in the Netherlands that can clean TAG thermally. The other three companies are Recycling Kombinatie REKO, Theo Pouw and ATM (Renewi). Through a declaration, the companies guarantee the client and disposer that all TAG supplied is thermally cleaned and free from PAH. The purified residue can then be reused as high-quality raw materials in the asphalt and concrete industry. And that's good news for the circular economy.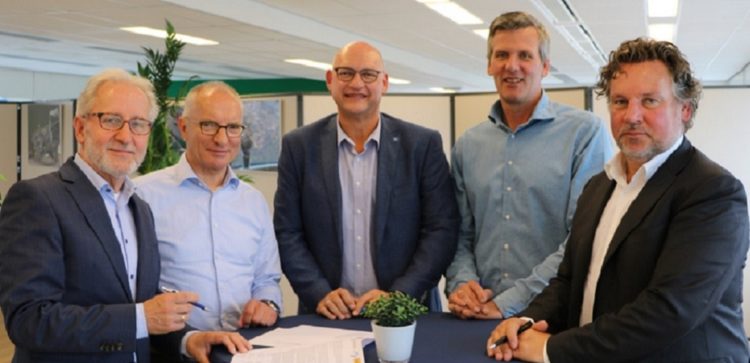 Signing of the Covenant for Thermal Recycling From left to right: Jan Storm (chairman LMO TAG), Theo Pouw (Theo Pouw Groep), Kees de Ridder (ATM), David Heijkoop (REKO) and new signatory Willem van den Berg (A. Jansen Recycling B.V.).
Asphalt can be readily processed into raw materials for new asphalt, but the tar that was included in asphalt until it was banned in 1991 contains carcinogenic PAH. It is estimated that 60 million tons of tar-containing TAG has been laid in the Netherlands. Since 2001, the national government has had an active policy to remove the carcinogenic tar from the environment. Twenty million tons of TAG has already been removed and the remaining 40 million tons will be removed over the coming decades, as part of infrastructure maintenance and renewal.
National Tar Asphalt Monitoring Consultation
The National Tar Asphalt Monitoring Consultation (LMO TAG) is an initiative of the Dutch government and business community with the goal of implementing Dutch policy in relation to TAG, so that tar is physically removed from the environment. Unfortunately, it is not always stipulated that TAG should be thermally cleaned and the regulations are not always enforced either. LMO TAG supports clients, construction firms and disposers with information in these kinds of situations. In 2008, the Environmental Code for Responsible Road Management (Code MVW) was introduced. By signing the Code, road management authorities declare that any TAG removed must always be cleaned thermally. In 2014, this code was extended by 10 years. The CROW publication 210 Guidance on dealing with tar-containing asphalt was also revised in 2015 and further tailored to the objective of removing TAG from circulation. Thermal cleaning of TAG is a requirement of Sustainable purchasing in the civil engineering sector and makes an important contribution to the circular economy.
Effective
Thermal cleaning of tar asphalt is an innovative and effective treatment method, which is why parts of Belgium also have TAG cleaned in the Netherlands. Earlier this year, the Flemish Agency for Roads and Traffic (AWV) and the Public Flemish Waste Materials Company (OVAM) signed a covenant with the Dutch thermal cleaners. A logical consequence of the stricter legislation in Flanders with regard to tar-containing asphalt (TAG). From 1 January 2019, the mixing of tar-containing asphalt granulates with cement in foundations in Flanders is no longer permitted. Thermally cleaned, high-quality material can be used in new products without risk with a declaration from the covenant partners.
Do you have any questions?
We will be pleased to answer them for you.